Whitetail Hunting
the prairie King ranch legacy
Prairie King Ranch brings you one of the highest success trophy whitetail hunts you will find anywhere.
Our nearly 30 years of improving and managing private farms and ranches has resulted in personal best whitetails for literally hundreds of hunters. This 100% fair chase farm and ranch country hunt offers hunters the ability to choose between vertical bow, crossbow, rifle and muzzleloader.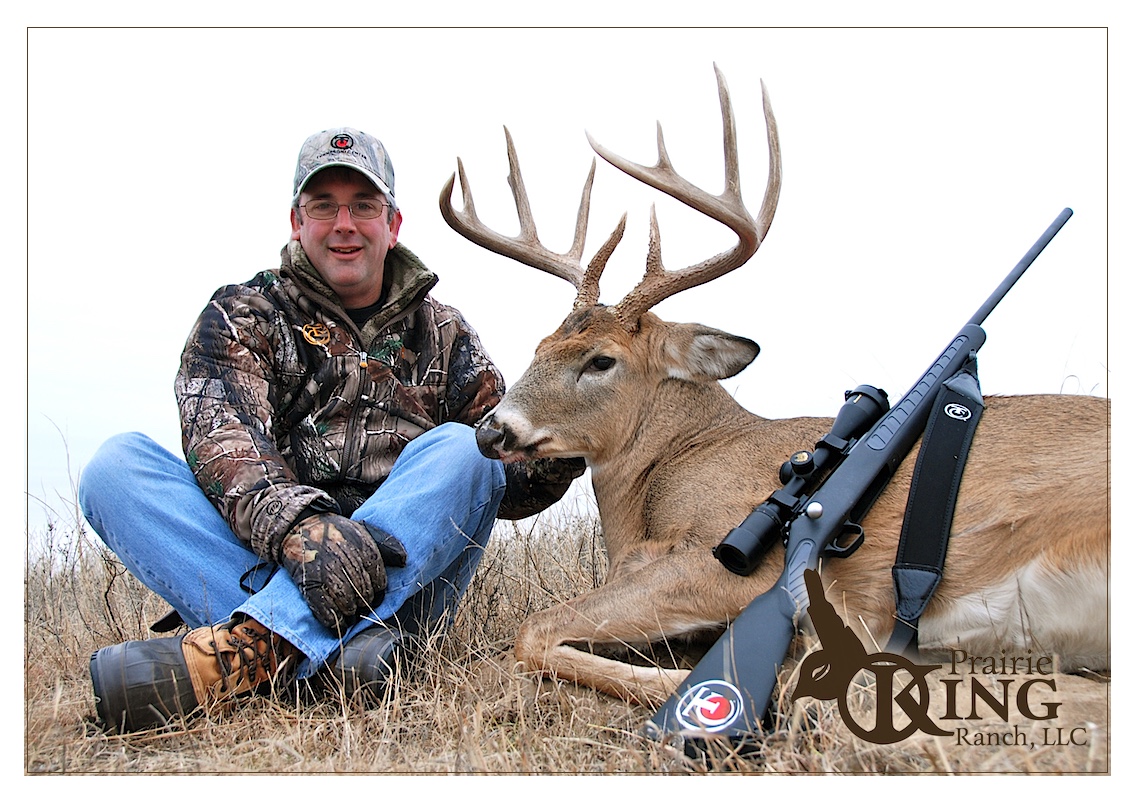 Rifle-Archery-Muzzleloader
The Hunting:
September Bowhunting:
Bring your bow or crossbow! Early September gives you a chance at a velvet buck. By mid September all bucks will be hard horned. This is a weather pleasant, short hunting hours hunt for those who don't like to sit all day but still want to see plenty of deer during a compressed period in the early morning and late evening. Typically evenings are spent hunting alfalfa or other crop field edges as well as some food plots out of our ladder stands. Mornings are spent just behind the food in order to keep deer using the fields. Bucks are in bachelor groups and are not as "keyed up" as they are later, presenting a better chance of closing the deal.
Pre-rut Bowhunting:
Bow or crossbow! Early November is our hard-core bowhunter hunt. Bucks are seeking but not finding; nose to trail from scrape to scrape and most any hour of the day. Hunters can expect to see several to many bucks per day. This hunt is highly successful on really big deer because we compress the hunt offering into the most harvest susceptible dates of Oct 31-Nov 7. Before that, it's not on. After that, they are running too crazy and have moved off the trails. We don't hunt you when you don't have a high chance of success. We hunt you when you can shoot something. You will be hard pressed to find a better bow hunt than this for upper-end whitetails outside of certain areas in Iowa.
it's common to see dozens of deer a day
from heated box blinds and comfortable ladder stands
Rifle hunting during the rut!:
Our rifle hunt is timed to coincide with the peak of the rut in mid-November. So how do we keep from killing all of the big deer? We strictly limit the number, currently taking only four hunters per year and those are generally sold out a few years in advance. Bucks are in full rut making this hunt nearly 100% success on bucks from 140-180 gross B&C score. The four hunters on this four-day hunt are normally all tagged out by end of day 2. Hunting is done almost exclusively out of heated box blinds where you have a beautiful view and will be seeing deer all day long.
Muzzleloader hunt:
December is muzzleloader season. We can hunt you anytime, however, hunting is best December 14-19 due to the trailing off of the second cycle. Before that, the bucks are in post rut rest. After that can be great if the weather is horrible, but mediocre if the weather is mild. For that reason we like you to hunt 5 days between December 14-19 to stack the odds in your favor. Hunting is done out of a heated box blind or heated pop up blinds.
Accommodations:
You will stay in our well-appointed farmhouse that sits on one of the ranches to be hunted. Group size is limited to 4 hunters at any one time. Each hunter will have a private bedroom with one bathroom per two hunters. Home-cooked meals are prepared by our camp cook. In 30 years of doing this we have learned that a clean, comfortable home that sits on one of the hunting ranches makes the most relaxing, enjoyable and memorable hunt as opposed to the common "hotel hunt," "trailer hunt," or "bunkhouse." The ability to share the moments around camp along with the time afield is one of the main reasons that our hunters come as strangers and leave as friends.
Arrival/Departure:
Please plan to arrive the afternoon/evening before your hunt and depart the morning after your last hunting day.
Weather:
September hunts are light jacket hunts with temps ranging from 40-70.
November hunters must be prepared for anything from zero to 60 but keep in mind that rifle hunting is out of a heated box blind.
Muzzleloader hunters hope to see lows around zero and highs no more than 10-15, but once again, hunting is mostly done out of either a heated box blind or a heated portable ground blind.
Licensing:
Archery permits are unlimited. Hunters purchase a statewide archery deer permit and habitat stamp here: LINK
Muzzleloader permits are unlimited. hunters purchase a statewide muzzleloader permit and habitat stamp here:
Rifle permits are limited and sold on a first come first served basis. We will contact you for your application information and purchase your permit for you as soon as they are available for purchase it insure that you get one and in the correct management unit.
Meat care and trophy prep:
Your guide will field dress your deer, hang it, accompany you to the check station, meat processing plant, and taxidermist. You will have the option of paying for the processing and having the meat shipped to you, or paying for the processing and donating the meat to a food bank. Basic processing is around $150 give or take. Trophies will be field caped by your guide but not face caped. You will have the option of having our taxidermist do your work and ship to you or having them simply do the trophy prep and ship to your taxidermist. These taxidermy services are not included in your hunt.
Guides:
Your guides are full time employees that are on the ranch nearly every day of the year doing ranch activities as well as winter supplemental feeding, trail cams, scouting, food plots, etc. They have decades of experience guiding and nobody knows every square inch of the ranches better than they do. Hunts are conducted on a 2x1 guide ratio.